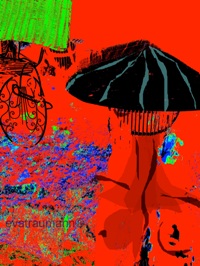 The art concept has no levels or borders. In this case, about Digital Art 2.0, I could only say that is art created by computer.
It is a possibility the fact that the text which I have written in order to explain "my concept" on https://www.temasarte.com , throughout the time it could be old-fashioned due to the development of new technologies. Therefore, I do not want to go into this definition in any depth, but I do want to do it about slight differences in meaning. Digital Art covers from digital pictures to the basic matter of the art, like some retouching, for example through design programs.
It will be used for the pictures a new system of 6 different colours, instead of 4 colours. This fact allows a lasting solar protection, as well as new shades and different shines which will contribute to a major pictorial expression.
As a result, it could be found new impression supports for the artistic creations. These digital creations appear on new environments where this could be seen through drastic artistic effects and different contrasts between styles and stands.
Different kind of materials like "Dibond Aluminium" gives a sense of modernity and does not allow the opacity on the creations.
The acrylic crystal can fix any kind of picture to a transparent base in order to play and enjoy the bright colours during a long time avoiding the possibility of damaging the picture over the years. Two millimetres of thickness are enough in order to reach that target.
Another possibility of print on politarp banners with eyelets punched, giving some kind of effects on complexity and manoeuvrability.
...It is a new Art in the Age.