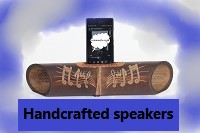 Our "Classy and handcrafted gifts" collection keeps getting bigger and bigger.
As it happened previously, from Temasarte.com we would like to present you a collection of handcrafted speakers for mobile phones; we are pretty convinced that they will surprise you and that you'll definitely get a liking to them.
The major part of it's originality is in it's simplicity, since it consists of a bamboo tube, inwardly perforated for the sound to come out from both holes. In the center area, there's a small gap that allows you to insert any kind of phone no matter it's size or brand, since the orifice is covered with a vegetal cortex in order to achieve the perfect space, allowing you to even charge the device while using the bamboo speaker.
Why bamboo?
Perhaps it's because it's one of the best woods for acoustics, achieving a clean, natural and strong sound.
Native to Indonesia and elaborated traditionally by a selected group of carvers with mobility problems, which means that moreover they contribute to their economic self sufficiency and social development.
The selection of a bamboo is established inside a girth scale which's maximum and minimum is around 10cm (~4 inches), and which length that can oscillate from 40 to 45cm (15.5 to 17 inches). The base has a rabbit that permits stability without it knocking over.
Initially, three collections are offered in natural or darker bamboo:
Straight, without carvings. Carved with art and attracting symbology. And painted with the traditional Indonesian style, full of colors and aesthetics. Furthermore, they're all served within a convenient case to carry and protect them.