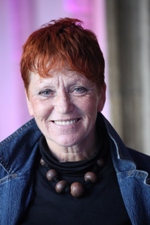 I think that it was around 2006 while I was playing with my computer's mouse when suddenly I started to create my digital pictures. I enjoyed it so much that I decided to insist and thanks to a friend I could find the right tools.
Thanks to my computer and the right software (Apple Powerbook and Photoshop) I found a new way of expression which was totally unknown for me up to that moment.
The digital art is created from the computer, as a consequence, it looks like that the most appropriate thing is to use a material very similar to a screen. As a result of the acrylic crystal presentation, we obtained a special effect of depth, brightness and a sophisticated lightness to the works that reflect the light and the colour of each picture to the maximum. Therefore, the Digital Art of Eva Traumann is emphasized as: pleasant, communicative, modern and very decorative.
The fact of finding the pictures without frame creates a bright, creative and open-minded atmosphere in order to be adapted to minimalist styles with an exotic touch of fantasy. The opaque brightness of the acrylic crystal allows the reflection of lights and space, creating a luxurious and amiable air.
The customer which prefers the Dibond Aluminium has a set not less sophisticated than elegant. The lack of shine of the surface suits with the pictorial effects of the work and emphasizes the high level of the digital impression and its great quality in colours and shades. There is no need to use frames either; therefore you can find a discreet and modern piece of art for any type of sets. By its clarity and simplicity there is no contrast over the time and style, adapting its shape to any kind of environment (classic, modern, minimalist, etc.). More...