To talk about SONATA GALLERY is, right now, like to share with you a significant confidence, they elaborate very good artesanal artwork but they're still in a moment of international launch. Which is, and not another, the reason of why his popularity allows us to "break" international markets, I dont insist you to remember their name, because I'm sure that their popularity will go to wherever they want it to go. In any case, we would love to help them do this, to make them famous in this famous place called Internet. We know that in any case, we, Temasarte.com , are the first ones to talk about it.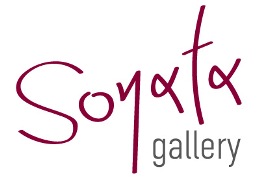 The artesans of this artworks, come from the lands of "The Iliad", "The Odyssey", or the verses from Hesiod, from the deepness of a country punished by its trendiness, but belonging to a town that has dominated the world and marked a glorious era. SONATA GALLERY stands out with figures and creations that distil a good dose of poetry, all the one that Greece could export.
George Roumanas (Petrizzi, Mesenia. 1965) is the responsable to elaborate all this artistic structural framework, for the artesanal elaboration, he uses prime materials like wood, volcanic rock from the eruption of Santorini and bronce. The final result are mini sculptures that are halfway between a comic storyboard and all the dreamlike things that a good artist has in its mind. Dramatizations of an idea, portraits that interpret in love ladies, imposible stairs, couples that walk together or tightrope walkers that look for the moon's magic. Star fishermans or musicians beneath a lampost's light and even olive trees, to leave evidence of the mediterranean scenery of Mesenia that inspires so many artists of its land.
It's a new bet from Temasarte.com to offer distinction and for it, we're proud that Sonata Gallery colaborates with its elaborations of our outlined artistic collections.