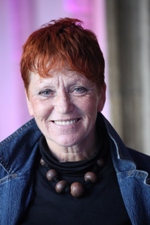 I would like you to know why I feel so attracted by the signs and stamps of the so called "guanches", the people who lived in the Canarian  Archipel long time before conquered by Spain.
In Canarias we call the signs "pintaderas" and I show part of my cave painting work and the "pintaderas" on my page http://www.evatraumann.com but also in the space of https://www.temasarte.com, because Rafa Tejada is one of my best friends on the island.
Temasarte.com (T-mas), in C.C. Anfi Beach, Patalavaca, Gran Canaria, is a very special place for art-gifts, beautiful design-objects and modern handcraft with a particular taste for harmony and style. Rafa achieves to transmit his personal experience how to mix emotions, tradition and taste to express an everlasting moment in a gift - this makes his place so perfect to present my work.
For me like a painter, beauty and wisdom make a perfect couple in ancestral painting. I always felt fascinated by the caves of Altamira in the north of Spain, in France and many other places.
It didn't surprise me when I discovered that inside these mystery and powerful mountains and canyons of the Canary Islands their ancient culture and its beauty is still testified.
It was not easy to inform myself, because in the mid-eighties when I started to investigate in canary's history, I only found archaeological traces in rare books and old journals.
"Pintaderas" are originally stamps and signs to mark the property of a community or a king. Also they marked objects for special purposes with a "pintadera". 
I'm not really interested in the meaning of the signs. What inspires me is how painting and background form a unique and lively picture. You can see spots of colorful pigments in the stones, traces of moss, marks of time, darkness and light. All this together makes it visually more significant and very interesting, as you can observe in the Caves of Gáldar (Cuevas de Gáldar, Isla de Gran Canaria) and in the "Museo Canario" en Las Palmas of Gran Canaria.
Reducing a sign to its geometrical construction is perfect for pattern in arts craft like pottery, ceramics, batik, and fashion jewellery design.
But I wanted to copy the stone or rockface together with the "pintaderas" so I had to try a lot until I found the perfect technic. The technic is time-consuming and elaborated but generated joy and satisfaction and inspired me to realize lots of pictures and copy many signs and cave-paintings.
I think the message of a remote time with its mystical aura and secretful meanings is really visible and full of beauty in the pictures and prints.  Very pleased I present you now the results of my work.
Ancestral cultures and ethnics are especially attractive in modern design and home decor.
Modern digital technic helps to create perfect copies of antic signs and fits marvellously in any modern or classic space - giving always a touch of individuality and nature.
The original "pintaderas" were first time presented in Las Palmas de Gran Canaria, springtime 2007, in the "Deutsche Konsulat" (German Consulate).
I also offered an artist's  edition, in high class printing,  signed and numbered  "pintaderas", sold in "El Corte Inglés", Las Palmas de Gran Canaria.
I'm happy to offer Alumium Dibond, canvas, acrylic glass mountings and first class fotopaper prints, just the way you like it and the size you prefer.
Decide by yourself and have a look!!
All copies are personally and originally signed by me. The high standard editions are consecutively numbered and signed.