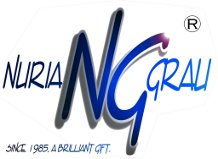 Almost 30 years of history dedicated to decoration and to the world of presents have permitted the company NURIA GRAU become popular, occuping a important ranking inside this place. This couldn't be possible without the help of a working group always looking after the market needs and incorporating their minimalistic tendences and a great confection of design that are achieving to shine -never said best- in markets of half a world.
For this, their products are fabricated with the best prime materials, being the Austrian cristal and the murano the principal base of their compositions.
The enourmous fan of colours and posible conbinations, permit give a personal pleasure to any customer, without having to discuss the fast shipping, being the delivery of 7-15 days from order date. With eight posible tonalities for each design, they make them easily adaptable to the preferences of the consumer. After a careful quality control in the finishing of his works, everything finishes in the packaging, elegant and resistable to the transporting, including guarantee and a number of serie in all of the fabricated articules.
From
TEMASARTE.COM
we bet for NURIA GRAU, with the conviction that her sculptures will shine in our catalog with their own light.